A jigsaw puzzle mat is a very novel gift idea !
WELCOME TO PUZZLES-ONLINE-NICHE
Looking for jigsaw puzzle mats?
Did you know that even though jigsaw puzzles have been around since at least 1760 , puzzle mats and other accessories were hard to find ( even through the earlier part of the 20th century ).
As a matter of fact , it wasn't until the late 1980s that a company in England, Falcon Games, formally launched a jiggsaw puzzle mat for the masses.
Nowadays you can find jigsaw puzzle accessories from any of several online sites , see the list at the end of my narrative, in the SHOPPING section.
---
The most important function of a jigsaw accessory is to provide a surface on which to construct the puzzle and then quickly pack it away in that state; products most often take the form of jigsaw mats that can be rolled up (complete with puzzle pieces) or boards that can be stored in a case.
Although many companies have since copied the functionality of the Jigroll, none have been able to give their products the same name and in jigsaw puzzle speak "Jigroll" has almost become a generic term for all jigsaw mats and rolls.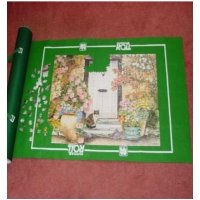 The Jigroll therefore is the forerunner of modern jigsaw puzzle accessories. The jigsaw puzzle is constructed on a green cloth that has a coarse Velcro-like texture to which the jigsaw pieces adhere. The unplaced pieces are also kept on the cloth. When the puzzle needs to be put away the entire cloth is rolled around a drum thus keeping both the assembled and non-assembled pieces in position until the cloth is unrolled again.
NOTE: Care needs to be taken to ensure that just the right tightness is achieved - too loose and the pieces will fall out and possibly be lost, too tight and pieces can be damaged.
---
SHOPPING :
Most of these companies additionally list other accessories like : glues, boards, cases, frames, safes, and tables.
( Author's note: I have no affiliations with the sites listed below, shop at your own risk. )
Get your jigsaw mats here:
Jigthings
TheFind
In the UK:
There you have it my review of the Jigsaw puzzle mat category, click any of the links below to return to the main page for jigsaws or the home page for online puzzles.
From Jigsaw Puzzle Mat to Online Jigsaw Puzzle