Rebus Pictogram Puzzles, Word Play with pictures
WELCOME TO PUZZLES-ONLINE-NICHE
Rebus, what is it ?
Basically it is a pictogram, mixing symbolism to represent words.
By definition : A rebus is an indirect reference device that uses pictures to represent words or parts of words. Such representations are often found today in the form of puzzles. It was also a favorite form of expression in the old world, used in the Middle Ages to denote surnames.
---
| | |
| --- | --- |
| AN EXAMPLE : | |
A modern day example of a Rebus as word play.
In the diagram the word HEAR is represented as The letter H + The picture of the EAR, thus we have H - E - A - R.
---
| | |
| --- | --- |
| In linguistics, the rebus principle means using existing symbols, such as pictograms, purely for their sounds regardless of their meaning, to represent new words. Many ancient writing systems used the rebus principle to represent abstract words, which otherwise would be hard to be represented by pictograms. An example that illustrates the Rebus principle is the representation of the sentence "I can see you" by using the pictographs of "eye—can—sea—ewe." Some linguists believe that the Chinese developed their writing system according to the rebus principle and Egyptian hieroglyphs sometimes used a similar system. | |
---
The term rebus also refers to the use of a pictograph to represent a syllabic sound . This adapts pictograms into phonograms( symbol standing for a sound ) . A precursor to the development of the alphabet, this process represents one of the most important developments of writing . Fully developed hieroglyphs read in rebus fashion were in use at Abydos in Egypt as early as 3400 BCE
The writing of correspondence in rebus form became popular in the 18th century and continued into the 19th century. Lewis Carroll wrote the children he befriended picture-puzzle rebus letters, nonsense letters, and looking-glass letters, which had to be held in front of a mirror to be readRebus letters served either as a sort of code or simply as a pastime
Modern Hieroglyphs - pictograph puzzles
Try these modern hieroglyph puzzle games below :
---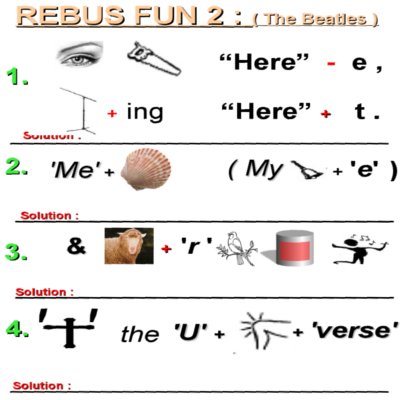 These Rebus Pictogram Puzzles can be downloaded and printed to your PC:
DOWNLOADING: Free Printable Puzzles
INSTRUCTIONS
HOW TO PRINT
(show/hide)

You can print these Puzzles in colorful PDF format . To do so you will need a PDF reader (like Adobe acrobat), which you can download for free here :

Download Adobe Reader here (a new window will open so you can download it without leaving this page).

If you want to open the file in your browser window, just click on the selected game link (not all browsers may have this feature).

However, if you want to download the file to view later, (see 'HOW TO SAVE TO YOUR PC')



HOW TO SAVE TO YOUR PC
- show / hide -

If you want to download the game files to view later, simply click on any game link below and once the file opens in a new window (then right-click and choose "Save Target As" or "Save File As.").

Next, select where you want to save the file on your hard drive.
Once you have saved the file, locate where you saved it, and double click to open it.

In order to print, open the downloaded file, and select the "Print" option from the menu.
---
DOWNLOADABLE REBUS PUZZLES
ADDITIONAL RESOURCES/LINKS
If you like Rebus, you may also enjoy these puzzles: HIDDEN MEANING
From Rebus Pictogram Puzzles to Word Game Puzzles